Prof. Dr. Behrends Sönkem, med.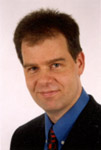 Faculty of Life Sciences
Institute of Pharmacology, Toxicology and Clinical Pharmacy
University of Braunschweig
D-38106 Braunschweig, Germany
Research Interests
Our lab is interested in the signal transduction of the gasotransmitters nitric oxide and carbon monoxide via soluble guanylyl cyclases and cGMP. We have purified and characterized carbon monoxide producing heme oxygenases in the baculovirus Sf9 system and use confocal laser scanning microscopy and fluorescence energy transfer to study their interaction with soluble guanylyl cyclase (unpublished). Our laboratory is equipped with anaerobic facilities for biochemistry and hypoxic live cell imaging chambers to study the influence of oxygen which can also be viewed as a gasotransmitter.
Selected Recent Publications
Haase, T., Haase, N., Krähling, J., Behrends, S. 2010. Fluorescent Fusion Proteins of Soluble Guanylyl Cyclase Indicate Proximity of the Heme Nitric Oxide Domain and Catalytic Domain. PlosOne 5:e11617, 1-10.
Haase, N., Haase, T., Seeanner, M., Behrends, S. 2010. Nitric oxide sensitive guanylyl cyclase activity decreases during cerebral postnatal development because of a reduction in heterodimerization. J Neurochem. 112:542-51.
Haase, N., Haase, T., Kraehling, J.R., Behrends, S. 2010. Direct fusion of subunits of heterodimeric nitric oxide sensitive guanylyl cyclase leads to functional enzymes with preserved biochemical properties: Evidence for isoform specific activation by ciguates. Biochem Pharmacol. 80:1676-83.