Prof. Cormac Taylor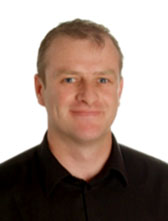 Associate Professor of Cellular Physiology
Conway Institute,
University College Dublin

T: +353-1-7166732
F: +353-1-7166700
E: This email address is being protected from spambots. You need JavaScript enabled to view it.
Research Interests
Impact of hypoxia on inflammatory gene expression.
Role of hydroxylase inhibitors in inflammatory bowel disease
Impact of altered CO2 levels on inflammatory processes.
Using systems biology to understand dynamic behavior of the HIF pathway.
Understanding basic mechanisms of fibrosis.
Selected Recent Publications
 Tannahill GM, Curtis AM, Adamik J, Palsson-McDermott EM, McGettrick AF, Goel G, Frezza C, Bernard NJ, Kelly B, Foley NH, Zheng L, Gardet A, Tong Z, Jany SS, Corr SC, Haneklaus M, Caffrey BE, Pierce K, Walmsley S, Beasley FC, Cummins E, Nizet V, Whyte M, Taylor CT, Lin H, Masters SL, Gottlieb E, Kelly VP, Clish C, Auron PE, Xavier RJ, O'Neill LA. (2013) Succinate is an inflammatory signal that induces IL-1β through HIF-1α Nature. 11(496); 238-242.
Bruning U, Cerone L, Neufeld Z, Fitzpatrick, SF, Cheong A, Scholz, CC, Simpson D, Leonard MO, Tambuwala MM, Cummins, EP & Taylor CT.  (2011)
MicroRNA-155 promotes resolution of hypoxia-inducible factor-1a activity during prolonged hypoxia in intestinal epithelial cells. Mol.
Cell Biol. 31 (19); 4087-4096.
Cummins EP, Oliver KM, Lenihan CR, Fitzpatrick SF, Bruning U, Scholz CC, Slattery S, Leonard MO, McLoughlin P and Taylor CT. (2010) NF-kB links CO2 sensing to innate immunity and inflammation in mammalian cells. J. Immunol 185; 4439-4445.
Cummins, EP, Berra, E, Comerford, KM, Fitzgerald, KT, Seeballuck, F, Godson, C, Nielsen, JE, Moynagh, P, Pouyssegur, J & Taylor, CT. (2006) Prolyl hydroxylase-1 negatively regulates IKKb giving new mechanistic insight into hypoxia-induced NFkB activity . Proc. Natl. Acad. Sci.
USA 103: 18154-18159.
Comerford, K.M., Leonard, M.O., Karhausen, J., Carey, R., Colgan, S.P.
& Taylor C.T. SUMO-1 modification mediates resolution of CREB-dependent responses to hypoxia. (2003) Proc. Natl. Acad. Sci. U S A 100(3): 986-991.